4th Convocation to be hosted by Texila American University
"Convocation is an exciting time. It's both an ending and a beginning – an ending of the good campus life and the beginning of a new life with more responsibility; it's the warm memories of the past and big dreams for the future".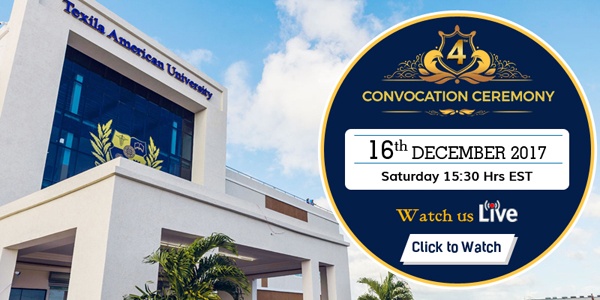 With happy faces all over the campus, Texila American University will be a place of delight during the 4th Convocation Ceremony to be held on 16th December 2017 at the Campus.
His Excellency, V. Moses Nagamootoo, the Honourable Prime Minister of Guyana will be the Chief Guest of the Convocation ceremony who will deliver the convocation address and will also felicitate the young achievers passing out from the institute.
The event will witness the achievements of the graduands – years of efforts and hard works that lead to their accomplishments of finally earing the salutation "DOCTOR". Dr. A. Anand, the Vice-Chancellor of Texila American University will preside over the function in the presence of dignitaries from the Government and Private Sector.
A total of 110 graduating students of TAU will receive their medical degrees at the convocation.
The event will begin with the Academic Procession followed by the National Anthem, Invocation, Opening of Convocation, Vice Chancellor's Report, Award of Degrees, Singing of the Scroll, Presentation of the Meritorious Awards & Medals, Pledge by Graduates, Presidential Remarks, Chief Guest Address, Academic Procession Leaves the Dais, Photography and finally the event will be concluded with the Dinner session.
The 4th Convocation Ceremony can be witnessed live on YouTube.
Date: 16th December 2017
Time: 3:30 PM to 7:00PM EST
Simply click the link below from your computer, mobile device to watch it LIVE
[maxbutton id="101″ url="https://www.youtube.com/c/tauedu/live" ]
Here is a glimpse of the previous Convocation ceremonies hosted by TAU: