Choosing your studies or the university to do your Medical Studies is not as easy as you think and it takes longer than you expected in the first place. If you already have an idea or actually know what you want to do in the future and want to build a career on it later, the decision is not that difficult. As far as Medical Studies are concerned, the students normally select universities from Philippines, Ukraine, China and Russia for the reason being cheaper and American for-mat of teaching. Out of which Philippines has 63% of people speaking English, 5.48% in Russia, 8% in China & 2.9% in Ukraine.
Cheaper course fees, no constraints for eligibility and Assuming the certificate of Global Recognition are some of the facts that attract the students to choose University in these countries. But the ground reality is that Only less than 5% of them clear their local medical council exams – the rest 95% of students and their future will be a big issue.
But there are several crucial factors you should consider when selecting to study in a University abroad.
How to select a university?
A university which has registered in the local country of presence
A university with good infrastructure and lab facilities
A university with highest level of reputation and student satisfaction
A university with in-house hospital facility or at least tie-up with good hospital for clinical rotation
A university which has history of students clearing local council medical when the students graduate and head back home
A university which has good hostel facilities and food cuisine of various countries
A safe and secured environment for peaceful learning
A country with good chill-out places for weekend outing from routine studies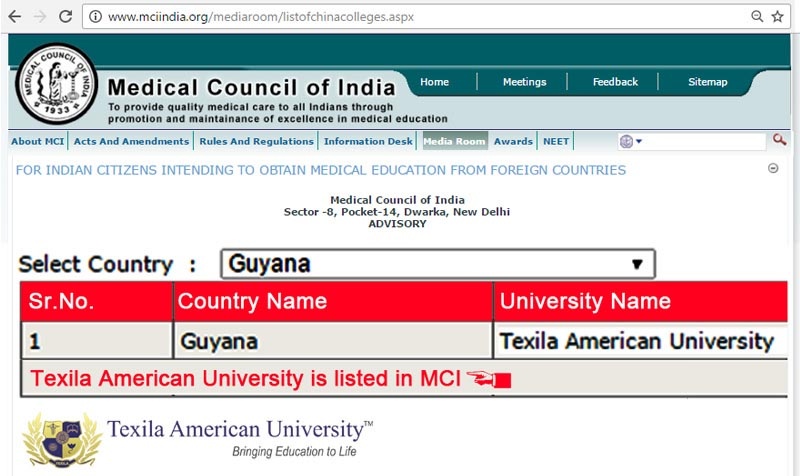 The most crucial factor is the Local Medical Council Registration of the University. Texila American University is listed in Medical Council of India (MCI) which allows the students to practice as a Doctor in the Home country upon completion of the course and clearing the Screening Test conducted by MCI.