According to a recent report, the World Health Organization (WHO) estimates that the doctor-patient ratio in Zambia is 1:12,000. The ration shows that only one qualified doctor is available for every 12,000 patients in the country. The acceptable ratio, as per WHO guidelines, is 1:5,000. In this scenario, an extreme shortage of doctors can be offset by encouraging students to study clinical medicine in Zambia.
Lack of qualified professionals inevitably leads to a situation wherein doctors are required to work more than 100 hours per week. In such a case, these existing doctors have to struggle a lot to deliver quality healthcare. The National Health Strategic Plan provides directives for healthcare policy in Zambia. It also includes tackling the human resources problem in the healthcare field.
According to the Ministry of Health, Zambia faces a shortage of approximately 3,000 doctors. Moreover, only 1,500 healthcare practitioners are currently registered in the country. The need for specialists is also acute, and practicing doctors with qualifications and experience are always in high demand.
There is a huge demand for qualified doctors throughout the African continent. Therefore, studying clinical medicine in Zambia can also open a world of opportunities. Moreover, there are several other healthcare professions that one can opt for as well, including nursing, pharmacology, midwifery, and so on. Let us look at some of the healthcare courses on demand in Zambia.
Advantages of Becoming a Doctor in Zambia
1. Highly Paid Profession
While starting off their profession, qualified doctors will get around US$3,500–5,000. When they become experienced and improve their qualifications with further degrees, they can earn a lot. Besides salary, there are also other facilities offered to doctors and their families.
2. High Demand
Zambia and the entire African continent are highly in need of doctors and healthcare practitioners. Therefore, there is a huge scope for qualified doctors in the field.
3. Prospects
As suggested by WHO, each country should have a certain number of healthcare professionals to treat their patients. The countries must put in place so many efforts to meet the demand. Therefore, even in the future, there will be a huge demand for doctors across the globe.
4. Better Comfort
Qualified doctors will be made to stay in a separate, fully furnished residence at free of cost. They will also be provided with helpers.
5. Leaves
Doctors can take 36 paid leaves.
6. Continuous Learning Experience
Most of the hospitals in Zambia insist their doctors upskill themselves continuously. They also offer in-house training as they consider it prestigious to have qualified doctors. Even the doctors' children will be given opportunities to have a quality education.
The Bachelor of Medicine, Bachelor of Surgery (MBChB) Degree in Zambia
As with most other countries, a bachelor's degree in medicine is considered to be the pinnacle of education. Doctors can earn between $3,500 and $5,000 in state-run hospitals. This makes the healthcare profession as one of the most premier professions in the country. Moreover, the starting salary for doctors in Zambia may be higher in private clinics and hospitals.
Armed with an MBChB degree, you can also work as private consultants inside and outside the country.
Source: UKRZAM
Healthcare Facilities in Zambia
| | |
| --- | --- |
| Type of Facility | Percentage |
| Government-affiliated Facilities | 85% |
| Private Sector Facilities | 9% |
| Religion-affiliated Facilities | 6% |
Source: NCBI
The MBChB degree is designed to ensure that graduates have adequate exposure to both the clinical and theoretical aspects of medicine. This degree in clinical medicine in Zambia prepares doctors through practical exposure to teamwork, community medicine, and leadership.
Students are also expected to undertake clinical rotations in hospitals as a part of the MBChB degree. Upon completion of 3 years of the primary science curriculum, students will directly engage in in-patient care. Aspects of medicine such as General Surgery, Internal Medicine, Community Medicine, Obstetrics & Gynecology, Pediatrics, and Psychiatry are included.
There are several recognized medical schools in Zambia that offer excellent MBChB degree.
Some of them include:
The University of Zambia, School of Medicine
Copperbelt University, School of Medicine
Texila American University, School of Medicine
Cavendish University, School of Medicine
The Bachelor of Science in Nursing Program in Zambia
Registered nurses represent 4 % to 8 % of the total workforce in Zambia. Nursing is considered a noble profession, and Zambia faces a shortage of qualified and skilled nurses. However, in the recent past several universities have begun offering high-quality nursing programs in Zambia.
The bachelor's degree in nursing program will focus on the fundamentals of nursing, human anatomy, physiology, and ethics. Students are eligible to function as healthcare practitioners directly upon graduation.
Nurse–Patient Ratio
| | |
| --- | --- |
| Internationally agreed nurse to patient ratio | 2.5:1,000 |
| Zambia's nurse to patient ratio (2015) | 0.8:1,000 |
Source: Lusakatimes
Healthcare Programs Offered by Texila American University
Texila American University (Texila) is a premier, private university. It offers clinical medicine in Zambia, along with courses in public health and business management.
Texila's Zambia campus (Texila, Zambia) was established in 2015 and is now a top medical school in Zambia. Texila, Zambia, is known for its advanced infrastructure and curriculum. All the programs are designed exclusively to build world-class doctors and healthcare professionals in Zambia and across the African continent.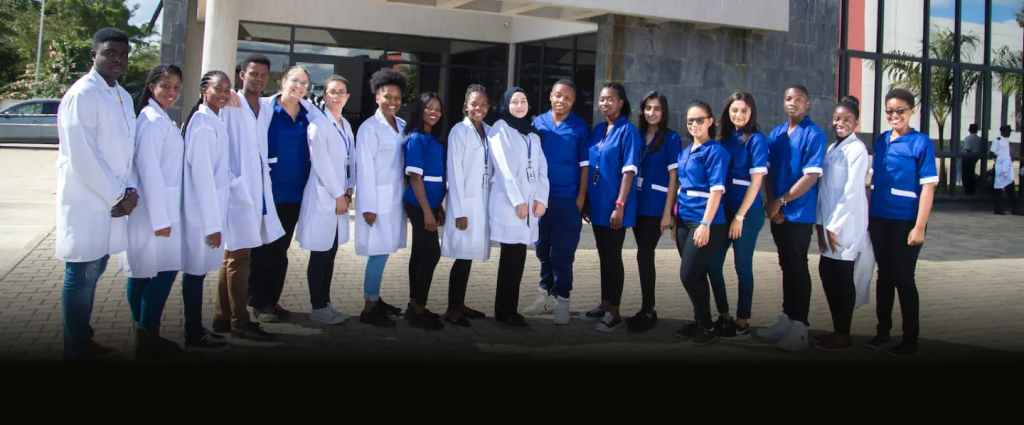 Key Features and Facilities
Clinical rotations at affiliated hospitals
State-of-the-art campus and infrastructure
Computer-assisted language laboratory and sick-bay room
Extensively stocked library with both physical and e-books
Unique teaching methodology such as flipped and supportive classrooms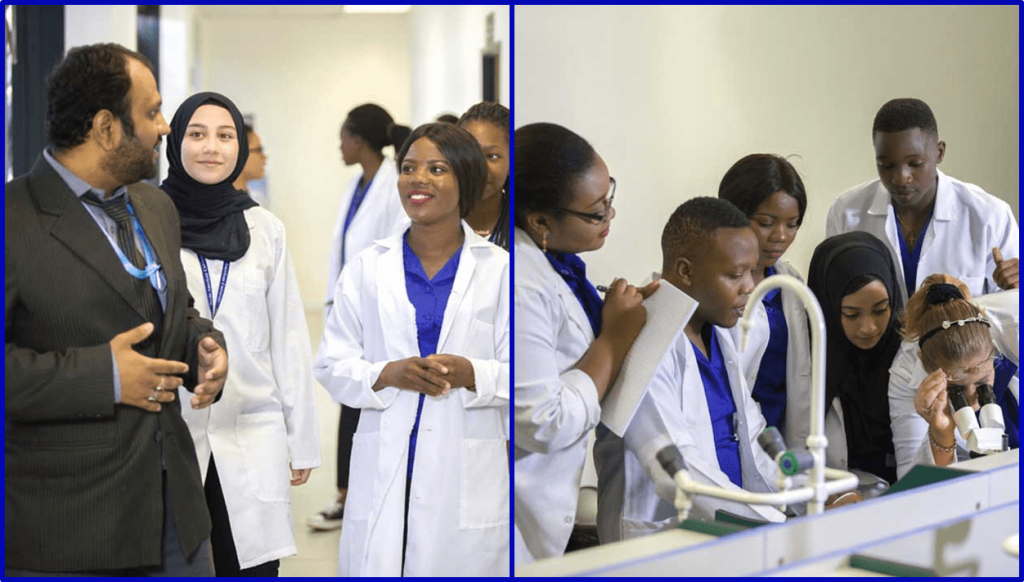 Accreditations and Memberships of Texila
Higher Education Authority (HEA): Our MBChB degree is accredited by the HEA, Ministry of Education in Zambia.
Health Professions Council of Zambia (HPCZ): Our MBChB and MPH degrees are approved by the HPCZ.
Zambia Chamber of Commerce and Industry (ZACCI): We are registered with the ZACCI. It is a leading private organization that represents an extensive network of companies in Zambia.
The University of Zambia: Our College of Medicine has a curriculum partnership with the University of Zambia.
Joining this esteemed organization will help you have greater exposure to the medical world. Enroll for MBChB at Texila American University and have a demanding career in the medical industry.