Psychology is the science of behavior and mental processes. It is also a profession in which psychological knowledge and insight are brought to bear upon human concerns.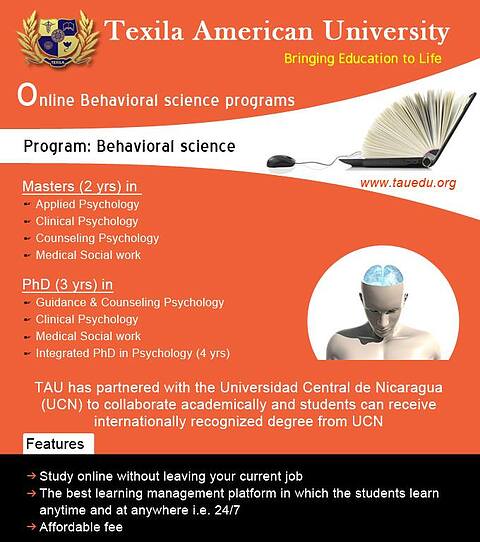 The School of Behavioral Science endeavors to acquaint students thoroughly with the content and methods of scientific psychology. While emphasizing the scientific approach to the understanding of human behavior and personality, TAU's psychology courses aim to show the students that this branch of science is complementary to and compatible with a sound philosophy of human nature.
TAU offers Psychology programs adapting to current technology and standards to meet everyday challenges in the field of Psychology. Our advanced online learning system provides you with the flexibility and support to study anytime, anywhere to balance work, life and study.
Programs offered:
MSc Applied Psychology
MSc Clinical Psychology
MSc Counseling Psychology
PhD in Clinical Psychology
PhD in Counseling & Guidance Psychology
PhD in Medical Social Work
PhD in Psychology (Integrated)
We offer psychology degree programs at every academic level, as well as individual psychology courses that can help you with your professional development. With a graduate degree, psychologists are able to work in health facilities, schools and the government.
Through the study of psychology, students work to understand the complex mental processes that dictate human actions. Along with presenting an interesting academic challenge, psychology has a host of applicable uses. Those who dedicate themselves to the study of this discipline will find that they are able to apply their understanding of human behavior to numerous situations and use their knowledge in their everyday life.
Watch our program video here https://www.youtube.com/watch?v=Yl7YEwVf6ms