As a part of the new beginnings in the Texila American University – College of Medicine, Dr. Maria Declaro had conducted a Small group discussion for the 5 international students in practicum in TAU Sparendaam Campus, an innovative and effective way of teaching and learning technique in problem -based learning (PBL), towards creating world-class medical graduates.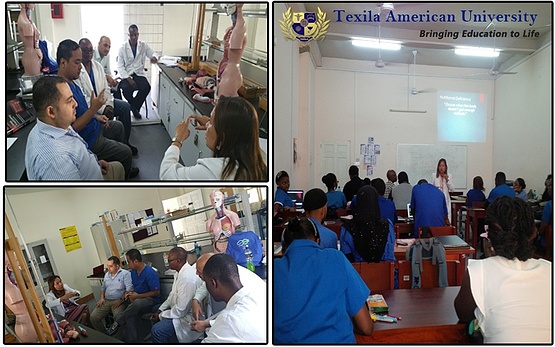 In addition to that, Dr. Raj Harnagle's delivered a speech on April 7, 2015 on WHO celebration of Food Safety in TAU.
The rationale behind doing this Objective Structured Clinical Evaluation (OSCE) to objectively assess the skills acquired by the medical students at the level of MD5,6,7,8 who have exposure to clinical rotations already.
It is another pioneering effort for TAU by Dr. Maria. It was also a tool for a needs assessment for the faculty's past teachings/mentoring-were they effective enough to deliver the academic and clinical goods to the students, also to gauge how "to bridge the gap between theoretical, practical and clinical aspects of medicine.
MD5 Medical Students of TAU – CM had recently concluded the Objective Structured Clinical Evaluation (OSCE) on April 10, 2015, at Critchlow Campus – A Brainchild project of Dr. Maria for objective assessment of the clinical skills of medical student's year level 5, 6, 7, 8 batches.