After the successful beginning of March academics, Texila American University is heading towards a new intake (September) with more programs.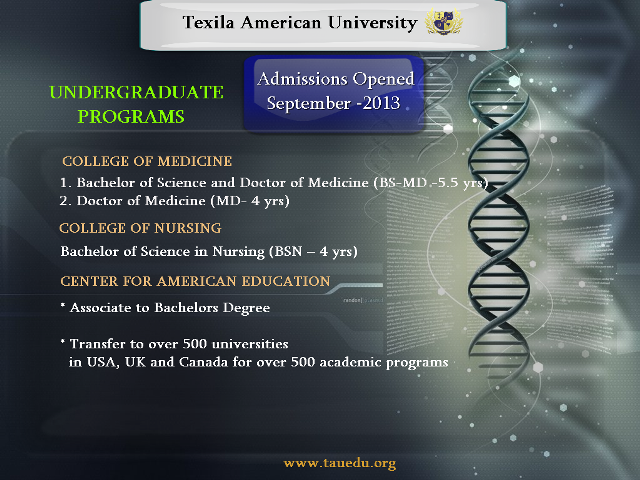 Applications accepted for the following programs:
1. College of Medicine:
Bachelor of Science and Doctor of Medicine (BS-MD -5.5 yrs)
Doctor of Medicine (MD- 4 yrs)
Clinical Rotation in Affiliated Hospitals in USA
Clinical Rotation in Georgetown Public Hospital, Guyana
USMLE training packages
Assistance for Residency placements in USA
2. College of Nursing:
Bachelor of Science in Nursing (BSN – 4 yrs)
Option of last 2 years with University of West England, UK
Clinical exposure through GPHC and community hospitals
3. Center for American Education:
Associate to Bachelors Degree
Transfer to over 500 universities in USA, UK, and Canada for over 500 academic programs
Join us with the existing 25 nationality students of TAU and be a part of human excellence in the medical service.
Courses will begin on September 16, 2013