Texila American University completed its 6 Years of Excellence as a World Class Affordable Educational Provider. Founded in 2010 with the only Campus in Guyana, the University's presence is now spread across the globe with 3 campuses – Guyana, Zambia and Fujairah with Offices in India, Sharjah, USA, & Hong Kong.
The Year 2016 marks a special milestone in the history of Texila as it has established Campuses in Fujairah and Zambia. Celebrations were held under the theme "Healthy Body, Happy Life: Promoting Health and Wellness".
The University had launched a week-long series of programs and activities beginning with community health outreach and blood drives. Staff, students and the local community were a part of the celebrations.
Day One (1) – 26th September, 2016 – "Anniversary"
Anniversary celebration commenced with a "Happy 6th Anniversary Cake" that was presented along with a Presentation for well deserving staff who have dedicated their services to TAU for over three (3) years.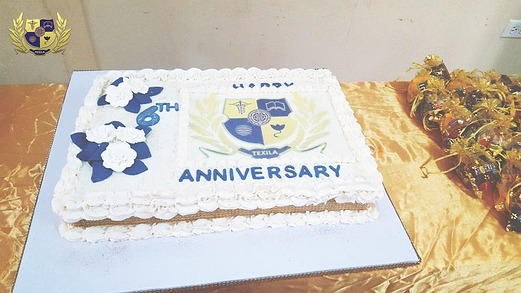 Day 2- 28th September, 2016 – "Blood Donation Drive"
A Blood Drive was organized on Campus involving Staff and students. A total of 48 units of blood were donated.
Day 3- 30th September, 2016 "Health Outreach Day"
A donation consisting of various non- perishable items were made towards the Children's Convalescent home and the Old Age Home (Psalms). This was handed over by Ms. Tamika and Ms. Annette along with five (5) students on behalf of Texila American University.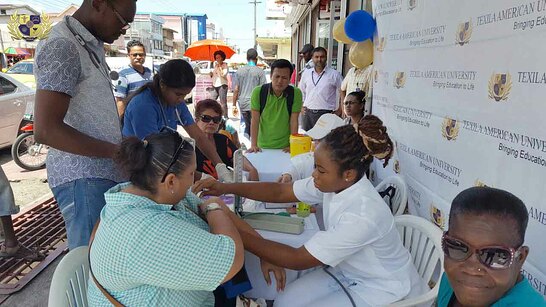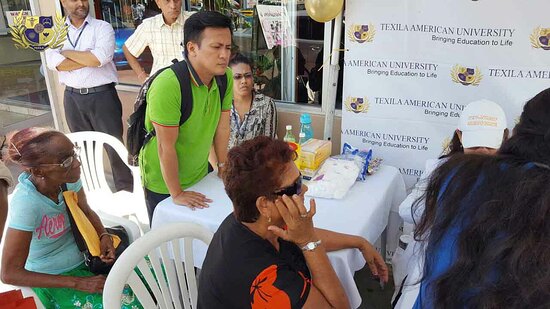 Also a Mini Health Outreach programme was conducted on Regent Street for the members of the public to have free access to check their blood pressure and blood sugar also free health consultation. A total number of 195 persons were checked and advised about their health. This activity commenced at 9:00 hours and concluded at 15:30 hours.
Texila Continues its Journey of perpetual expansion and development ……