We are organizing a Free Webinar on 30th June 2017. The exceptionality, importance, reputation, and excitement about this webinar lie in its internationally acclaimed presenter, Mr. Ajay Poddar, who is currently pursuing his Philosophy in Doctorate [Ph.D. in Management] – MAU, India. He has also completed his MBA with marketing specialization from Punjab University, India, PG Diploma in Management (PGDM), All India Council for Technical Education, India, Master in Commerce (M.Com), Meerut University, India etc…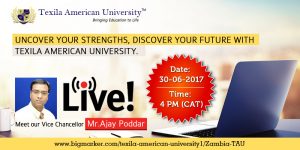 Mr. Ajay Poddar has nearly 23 years of work experience. He is currently the Deputy Vice-Chancellor of Texila American University. For this Free Webinar, we would be giving the students an overview of our Zambia Campus and the programs offered on the campus.
This free webinar has been conveniently scheduled for 4 PM (CAT) in Texila's acclaim brand of Bringing Education to Life for you without compromising your earning power.
Moreover, the convenience of this scheduled time will allow for the answering and satisfying of all queries.