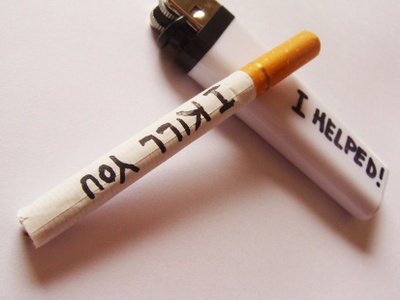 Think about your family before touching me. Beware of me.
Once You Start, It's Hard to Stop
Smoking is a hard habit to break because tobacco contains nicotine, which is highly addictive. Like heroin or other addictive drugs, the body and mind quickly become so used to the nicotine in cigarettes that a person needs to have it just to feel normal.
You're a fool if you think smoking is cool.People start smoking for a variety of different reasons. Some think it looks cool. Others start because their family members or friends smoke. Statistics show that about 9 out of 10 tobacco user's start before they're 18 years old.
Smoking is like paying someone to kill you. They're rich; you're dead.
Everyone know the effects of smoking, so,
Dear Smoker!!
To stop smoking:
DELAY the FIRST
DEFER the SECOND
DESIST the THIRD
AVOID the FOURTH
PAUSE the FIFTH
SKIP the SIXTH
POSTPONE the SEVENTH
FLING-AWAY the EIGHT
EVADE the NINTH
and now PUT a BBBIGGGGG SSSSSTTTTTOOPPPPPP before the TENTH.
SAY GOOD-BYE to SMOKING AND TOBACCO.