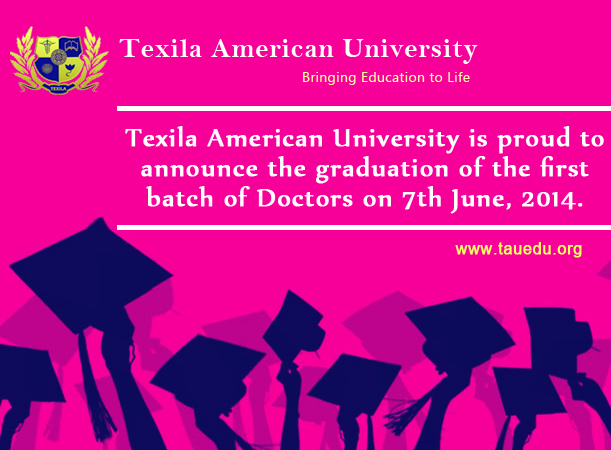 Texila American University is proud to announce the graduation of the first batch of Doctors on 7th June 2014. It is indeed a historical moment for everyone involved in the years of hard work in developing a University with the quality of education it provides today!
The University commenced its humble beginning in 2010 only with the On-campus programs in Medicine. Further, it expanded its program views across On-Campus programs for nursing as well. Further it collaborated with decade's old Partner Universities to provide Academic support to Distance and Online Programs.
Currently, TAU holds the students from 35 different countries.
Today, Texila American University is a thriving Medical School rendering education to the students from different nationalities.Since its inception, Texila American University has been in the forefront rendering education withhigh professionalism and exactness.
On June 7th, 2014, the graduated students will be awarded with the Doctor of Medicine Degree from the Texila American University! Added to this a Great Sense of JOY is that our First Graduate has Matched into the residency (Post Graduate) program in the United States.
Graduation Ceremony is scheduled between 4 pm – 8 pm, on Saturday, 7th June 2014 at Marriott Marquis located in 265 Peachtree Center Ave NE, Atlanta, GA 30303
This is a TIME of Celebration for all at TAU.
For More Details Please visit http://www.tauedu.org