A Doctor's Voice
Sleepless Nights
Big Bright Lights
No fixed timings for me
At times I forget that I have a family behind
Just to make sure you are
happy and safe with your family!
Texila American University hosted its 3rd Graduation Ceremony with the Motto "TAU Graduates going beyond the challenges of change through Quality Education" at on 10th December 2016 to roll out the successful batch of Healthcare Professionals. Thirty-Five (35) Students from Guyana, Nigeria, India, South Africa, Uganda, Canada & Syrian Arab Republic were graduated from the University as Doctors and Nurses to serve the community.
It is a privilege and an honour to be hosting the graduation ceremony for our Third Batch of Graduates. We would like to express our gratitude for choosing Texila as a preferred partner for their career.
Since inception in 2010, TAU has witnessed immense growth. Every year "Graduation Day" is the only day for us which signifies the achievement and satisfaction of entire years of effort. We strongly believe that "Graduation is not just a goal instead it's a beginning of a larger journey of life and all accomplishments we achieve during its course should be taken as starting points for further achievements."
Our Chief guest, The Honourable Prime Minister of the Cooperative Republic of Guyana, Mr. Moses Nagamootoo, who presented the Graduation Message to our Students said " the student being responsible healthcare professionals, should uphold the humanity and mankind to the society and treat this profession as noble one and should be committed to serve the community"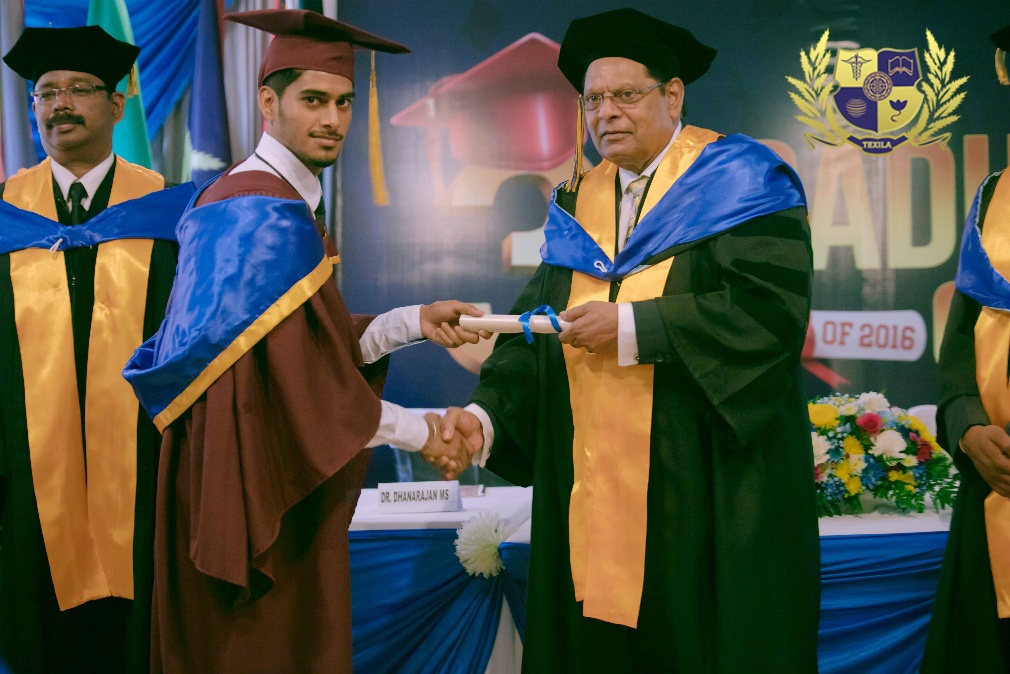 The Keynote Address was delivered by Mr. S.P. Saju Bhaskar, Founder and President of Texila American University. Speaking on the occasion he thanked all of the families and friends in the audience who are present. Recalling the famous saying by Nelson Mandela "Education is the best weapon you can use to change the world", which is very true. Being educated does not imply to be a matter of proud unless that education is productive with regard to the necessities of the surrounding people and society. A literate on paper and degrees could not be called an educated person, unless he knows how to implement the learnt knowledge. Mr. Saju Bhaskar advised all the students to take the next steps in their journey towards building their career and future.
The Plaque of Appreciation was presented to the Chief Guest by the President of Texila American University. The Degrees were awarded to the Graduates by Hon'ble Prime minister of Guyana.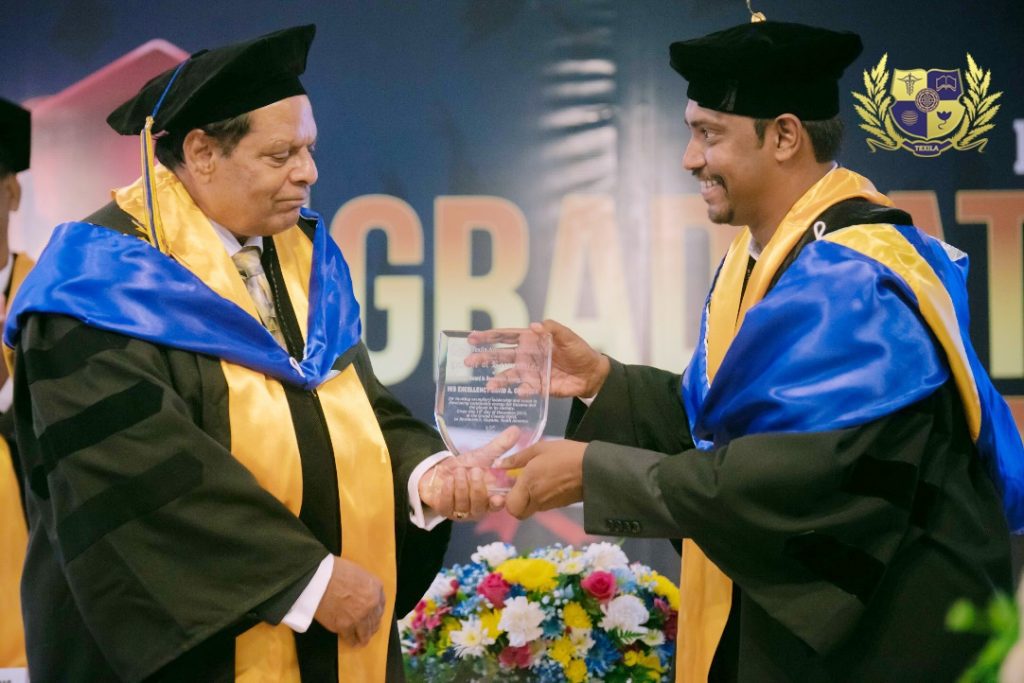 The welcome note was delivered by Dr. A. Anand, The Executive Vice-Chancellor of the University. Speaking on the special occasion he quoted "Medicine is never an easy path, but as I have always said, the best things in life never come easy. You all came to this country, far from your home, with dreams and hopes of one day, being called a "Doctor". Today, your dreams are realized and your journey does not end; rather, it begins."
We are proud of every single professional who graduated from our University and we are confident that our students will become "Responsible Citizens" "Responsible Healthcare Professionals" & "Responsible Life Savers" for their community, country and world.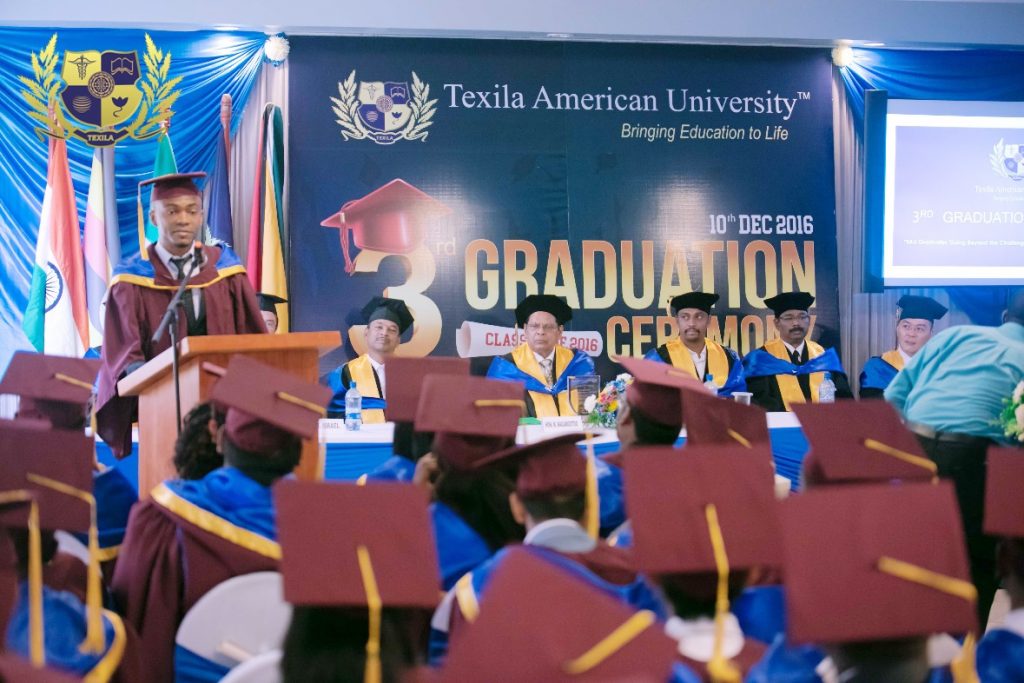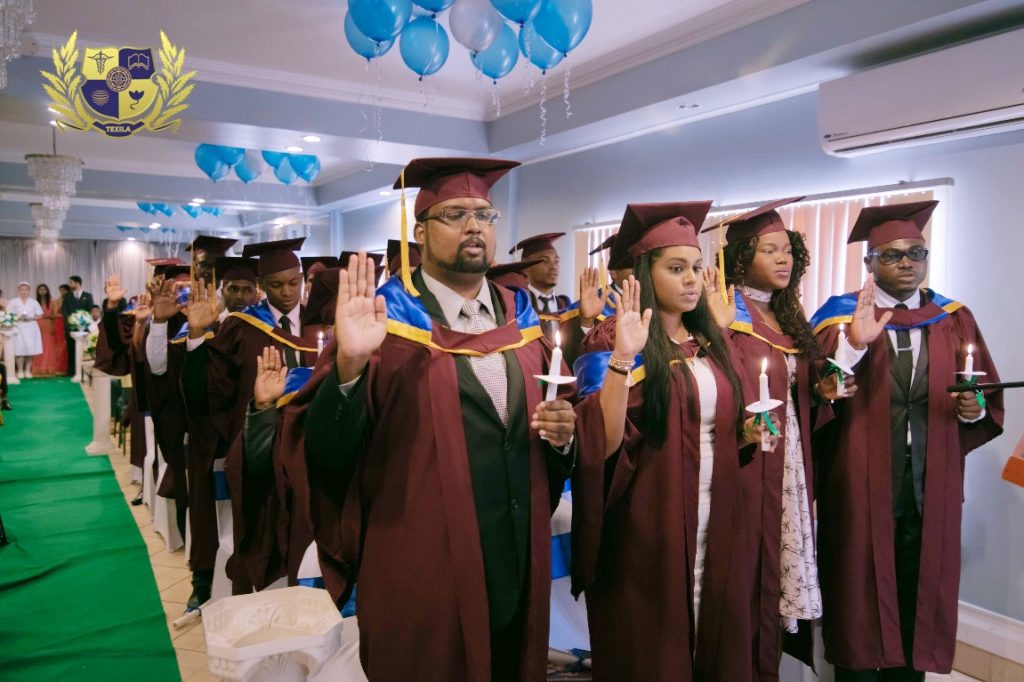 We would like to thank all our Students and Well-Wishers who had supported us throughout our journey in making this milestone possible in the History of Texila!