Rare Disease Day 2017
Millions around the world suffer from rare diseases that attract little attention in the public arena. On February 28th, those who endure these often-neglected illnesses will take centre stage in a global observation of Worldwide Rare Disease Day. This is an important day for increasing awareness of the many challenges unique to rare diseases.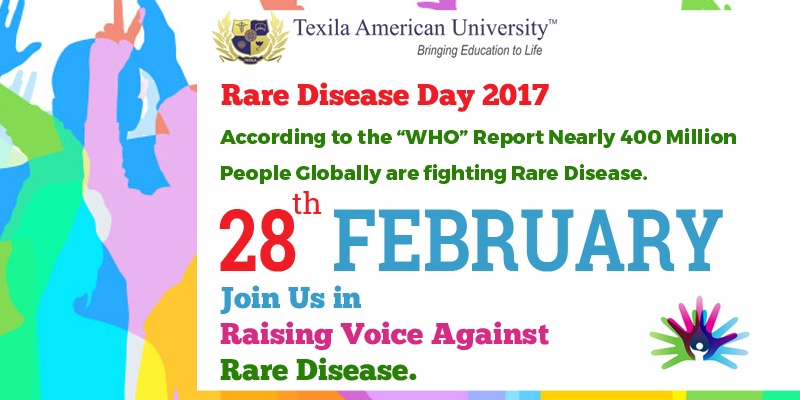 What's great about Rare Disease Day???
It focuses on the whole spectrum of rare diseases, and hopefully will prompt increased advocacy and better representation for all rare disorders.
Any illness that affects a small portion of the population is considered a rare disease, also known as an orphan disease. Although rare and genetic diseases, and many times the symptoms, are uncommon to most doctors, rare diseases as a whole represent a large medical challenge.
African trypanosomiasis, also known as sleeping sickness is a rare disease that occurs regularly in some regions of sub-Saharan Africa with the population at risk being about 70 million in 36 countries. As of 2010, over 9000 deaths per year have been reported. An estimated 30,000 people are currently infected with an average of 7,000 new infections per year. More than 80% of these cases are in the Democratic Republic of the Congo.
Fibrodysplasia ossificans progressive (FOP) is an extremely rare connective tissue disease. The disease is caused by a mutation of the body's repair mechanism, which causes fibrous tissue. As of 2017, approximately 800 cases of FOP have been confirmed worldwide making FOP one of the rarest diseases known.
Here are some facts about rare diseases that you may not already know:
Rare diseases impact more people than AIDS and cancer combined
95% of rare diseases do not have a single drug
Only 15% of rare diseases have organizations or foundations providing support or driving research
Paying tribute to the millions of families whose daily lives are impacted, and who are living day-by-day, hand-in-hand with rare disease patients.
A Person's Disease May Be RARE but Their Hope Should Not Be.