Good health is more than just being free of any disease; it is about the positivity in one's outlook. As the old adage goes – 'Prevention is better than cure' – it's wise to keep track of one's health status through awareness and timely check-ups.
According to the World Health Organization (W.H.O), heart diseases, pulmonary disorders, cancer and tuberculosis were among the top global causes of death in 2016. Lack of knowledge/awareness, poor accountability and limited access to medical facilities are challenges that people are fighting even in the 21st century. Today, governments, healthcare agencies and denizens as such, are working collectively towards curbing and controlling challenges in global healthcare.
Health Expo 2018: The Event
Organized by the Ministry of Public Health, Guyana, the 'Health Expo 2018' held between May 30th and June 2nd, 2018, was one such initiative that brought together dedicated individuals focused on building a healthier Guyana. Texila American University (TAU) is proud to be part of such a prestigious event and contributed to the cause by creating awareness, providing community services and health check-ups.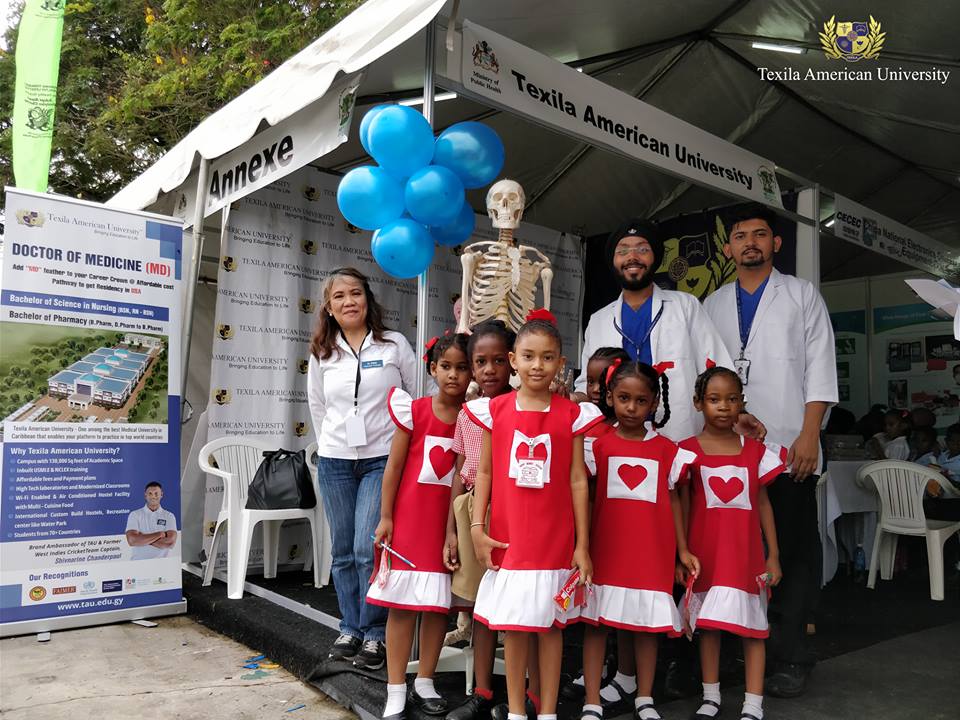 Health Expo 2018: Theme and Objectives
Held at the Sophia Exhibition Center, Eastern Highway and Dennis Street, Georgetown, the event was based on the theme, "Reaching for a Better Life with Good Health". The objectives of the expo were to strengthen health communications and create awareness among the citizens. With thousands of people attending the 4-day-event, the public were informed about the services rendered by the Ministry for improved health care and also provided a platform wherein local and foreign manufacturers, suppliers and distributors could interact and share current knowledge about the best practices in health.
Inaugurated by President, Mr. David Grange, the opening ceremony was held on May, 30th, 2018 at 4:30 pm. The four-day expo witnessed an overwhelming response and was successful in creating awareness among people, highlighting the importance of health check-ups and community services.
The team from Texila American University (TAU)
At Texila American University, we are grateful to the Ministry of Public Health, Guyana for letting us be part of this initiative to a healthier Guyana. As a top medical college in the Caribbean, this event gave our students and faculty the opportunity to engage with people directly and provide medical care.
Established in 2010, in the picturesque town of Georgetown, Guyana, Texila American University has carved a niche for itself by providing the best in medical education. At Texila, our mission is not only to provide academic excellence but also practical knowledge.
Our participation at the Health Expo 2018, was a small way of keeping to our promise and working collectively towards building a healthier Guyana!